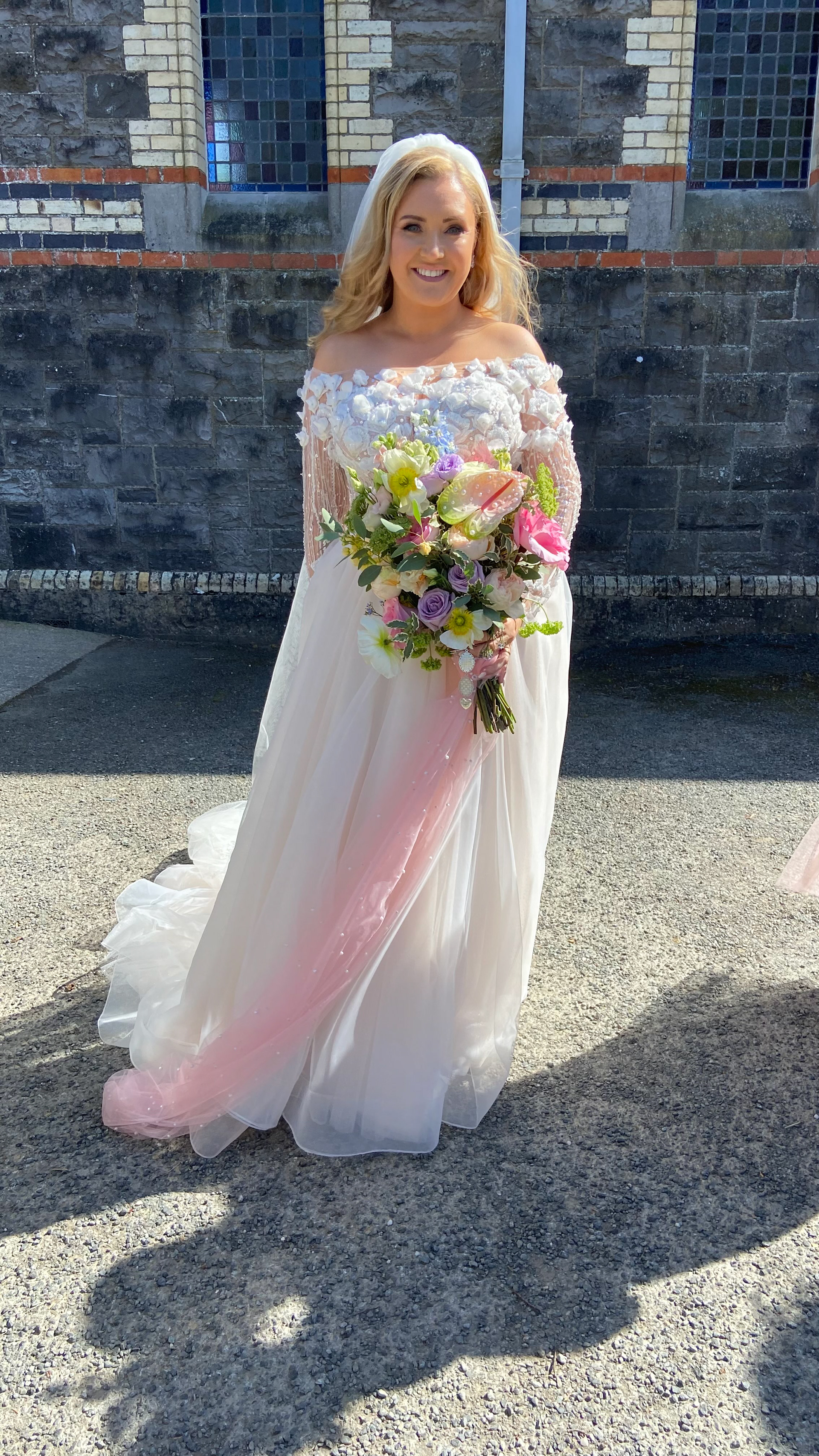 "From the first moment I spoke with Carolyn, I knew I'd hit the jackpot. She is so knowledgable, talented and enthusiastic about creating an absolute floral dream for each couple. I gave her very broad suggestions of what was in my head and somehow she got inside my brain and made my vision a reality. Before I even could describe an idea I had, she was right there with me, making it even better! From mood boards, to complete creative genius on her part, she gave me my dream floral arrangements and more. 
My favourite vendor hands down, but to me she is so much more! She's been a sounding board, a therapist, a cheerleader and an absolute dream. She gives a completely tailored experience to every couple, with unique details and special touches that make all the difference, down to the wrapping of my bouquet in a tulle veil rather than ribbon ( which was the most talked about topic all day) and finding flowers that perfectly matched floral details on my dress. I always knew my flowers would be important to the entire aesthetic and vibe of the day and Carolyn made sure that her arrangements were spoken about the entire day. I gasped when I saw my bouquet as it was straight out of my dreams, and my daughters floral crown made her look like the princess she is. 
It was an absolute pleasure to have both Carolyn and her mum (my entire families new favourite people)  with us on the morning of my wedding, flitting in and out with countless bouquets, buttonholes, corsages and floral crowns leaving a trail of magic behind them on their way to assemble the fairytale wonderland at the church. I have had so many people reach out after the wedding to ask for her details for future weddings. I can't explain in words how thankful I am that Carolyn was able to work with us, I don't think I could have had the results I had with anyone else, she is completely irreplaceable She is a breath of fresh air in her industry, completely unique, talented and a wonderful, beautiful person. I wish I could have half the talent and creativity, We would choose her 1000 times over"
"We found Carolyn when our wedding planning from America started to look shaky. I had trouble getting a response for weeks from other florists, so finally I put an inquiry out in a Facebook group for Irish brides. 
Carolyn responded immediately and had such a bright and cheery personality. She got my vision, and I sent her a mood board. She right away had creative ideas to capture what I was thinking, and sent me a quick and accurate quote. She checked In frequently with me over the months and the communication lines were always open. She was genuinely so easy to work with, and on the wedding day her and her mom worked so hard to make my dream a reality. I could have cried, the ceremony and reception spaces were so beautiful. My bouquet was so lush!
A personal note about Carolyn is that she is so intuitive and empathetic, she must have sensed it was going to be hard doing this from America (she was right), and let me ship some little wedding items to her studio to keep me from having to bring a ton of things over. This meant so much to me and made things so much less stressful. I know I made a friend from this experience, and I know many people at my wedding did as well. Carolyn, you are such a talented bright light and wonderful person!"
" From start to finish, Carolyn was so amazing to work with. As we had a NYE wedding, we were looking for to have a moody feel to our flowers with a little hint of glam. 
Carolyn pulled this off perfectly and created unique, classy arrangements which were perfect
 for our day. She even added personal touches such as a ribbon around my bridal bouquet with the lyrics of our favourite song, and a special flower added to my husband's boutonnière in remembrance of his best friend who passed away. 
Not only is Carolyn skilled at her trade, she is also so friendly, accommodating and flexible to work with. She also worked with us on how to get the best bang for our buck with our budget. 
My whole bridal party, makeup artist and photographer all commented on how amazing she was! Hands down, best florist around and if I were doing it all again, I would definitely pick Carolyn! 
 "I feel Ive made a friend in Carolyn, after meeting for a coffee to discuss our colour palette, she was so genuinely excited for Eoin and I which made the build up to the day just so special. Carolyn provided an incredible service from start to finish, even sourcing some figs to decorate the cake with (which her mum was even going to attempt to bring back from holiday and dry for us if they weren't in season at the time of the wedding)! The bouquet, unity arrangement and reception arrangements were simply stunning and suited our vision perfectly. We wanted a minimalistic, classic vibe with pops of autumnal colours and Carolyn's signature whimsical arrangement, with lots of movement in the bouquet. Carolyn delivered over and above our expectations. Flowers were our only decoration at the wedding and I had absolutely no doubt that Carolyn would deliver such a dreamy setup for us.  We had some of our flowers delivered to Eoin's grandparents care home after the wedding, which brought them so much joy.  Thank you SO much, Carolyn."
Nothing could've prepared myself and Joe, for what Carolyn created for us. We mentioned to her, that we wanted a 'Frosty Halloween' theme for our wedding, and she created that and so much more for us. She grew flowers and pumpkins in her garden. She spray painted leaves and pumpkins, and flew Roses in from Holland. She made a memorial chain of my Dad for my bouquet. She scooped out massive pumpkins and arranged flowers inside them, and they weighed a tonne! She asked what peoples favourite flowers were, and incorporated them into buttonholes and bridesmaids bouquets. She even transported all the flowers from the church and set them up at the second venue. Carolyn went above and beyond our expectations and we just couldn't be happier. She is exceptionally talented at what she does and is incredibly thoughtful. She also surprised us with floral confetti ! We met her on two occasions and she was very professional and wanted to get out ideas exactly right. Our guests have not stopped raving about the flowers. We were absolutely blown away by Carolyn. It was so stunning and I will always remember walking up that beautiful frosty Halloween aisle to My Joe. Thank you so so much. 
"

Carolyn prepared my beautiful bouquet for my wedding on the 24th of June. Carolyn asked what my favourite colour was (it's purple!) and we took it from there! From our very first contact I knew I had made the right decision. I visited her garden where I could tell her which flowers I loved, and she advised what would be seasonal for the day. She enquired on my likes and dislikes and tailored the bouquet to my every request. The flowers were grown around the corner from our home, which made it even more special. My dress was quite plain and the colour pop from the bouquet elevated my look past what I could have imagined. My sister was also delighted with her bouquet and put them in a vase after the day. I received too many complements on the bouquets to count!
The flowers were hand delivered by Carolyn herself on the day, which kept them so fresh the bees were equally delighted to see them. When my veil was clipped back to front by the hairdresser on the morning of my wedding, Carolyn and her nimble fingers saved the day on that one too and she seamlessly corrected this in an instant. Carolyn delivers excellence from the personal flower requests down to the colours and material of the ribbon matching my shoes. She is a professional and passionate about what she does which shines in her work. I cannot recommend Carolyn highly enough, thank you so very much.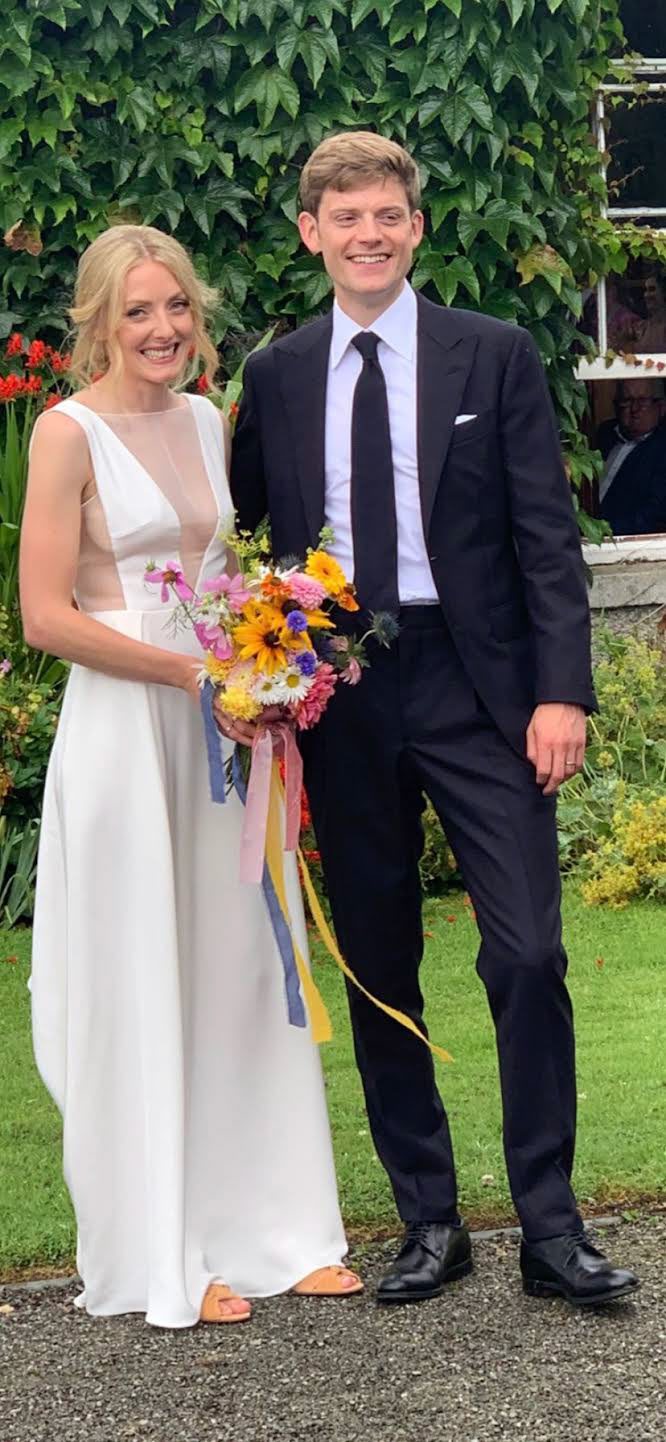 "I was totally blessed to get Carolyns name when my son

& 

wife to be booked their wedding at Durhamstown castle. Then started a magical journey of exploring flowers, grown with love. It was a delight to deal with Carolyn who was so full of warmth and creativity. I felt, as months progressed we had this super ace card and I knew people would be enchanted when the day arrived. Carolyns professionalism and direct approach gave me confidence, that all would come into fruition. And it did  in spades!
 The Bouquets were raved about , All the flowers were admired as individuals "Are they really real ?"  
Those dahlias really know how to make an impression .Overhanging flowers , flowers in milk urns flowers peeping from surprising places all charmed.  The ultimate  centre piece of course the happy couple lighting their unity candle was framed against a divine ceremonial ring  a vision to cherish forever.  The memory of the wedding for us all and most importantly of the bride and groom  is framed by flowers ..  such a great way to remember the most special of days Thanks Carolyn ... you and your amazing creativity brought it all on to Durhamstown. We are Forever grateful to you.
 Aisling & Stephen Furlong
"Carolyn was a pleasure to work with. She was always quick to respond and extremely accommodating in the lead up to our wedding day. I absolutely loved my bouquets and so many people complimented them. The colours were so vibrant and looked so striking in our photographs. Thanks so much Carolyn!"
*****
Eithne Dhomhnaill May 2022
"Carolyn was my florist for my wedding in August and her work was absolutely stunning. I honestly couldn't have been happier. To know that they were grown with such care and arranged with such love was the most special thing. I spoke with Carolyn numerous times before the wedding, she was dedicated to getting it exactly right, making sure I was happy at every step. The results were beyond my expectations. Not only is Carolyn professional and extremely talented but she is always a pleasure to deal with. My bouquet included some very sentimental flowers and keepsakes which made me feel as though the ones I loved who have passed away were right there with me. If you are getting married soon and searching for a florist, do yourself a favour and contact Carolyn ❤️"
"From the moment we got in touch with Carolyn regarding flowers for our wedding day, we knew we had made the right decision. Her enthusiasm and passion was evident from the get-go, and was infectious! We felt very involved in the process of choosing our flowers but were given expert advice where needed. Carolyn designed a beautiful mood board to show us her ideas for our big day. She was very understanding and accommodating when things were looking a bit shaky with Covid... 
On the day our flowers were absolutely incredible and all of our guests commented on them. Carolyn set everything up perfectly that morning. We had beautiful centrepieces, a ceremony ring, and Carolyn made a floral headpiece for my hair.. the headpiece was absolutely beautiful, lightweight, and so comfortable to wear. It remained perfectly in place until the wee hours of the morning. I could not recommend Carolyn highly enough."